Welcome to Highland Elementary School!
We are located in Reedsport, Oregon, just four miles from the Pacific Ocean and the world-famous Oregon Dunes. Our school serves more than 350 students from Kindergarten through 6th grade. We're proud of our facilities and committed staff members. Together, we're working to create the best possible atmosphere to grow and nurture your children and make their educational experience truly excellent.
FlashAlert - School closure information due to weather, etc.
Click here for school closure information:
https://www.flashalert.net/id/ReedsportSD
Your voice matters, and we want to hear from you.
Please take a few minutes to fill out our family engagement survey. The survey is anonymous. The answers provided will help our school district plan future goals and activities. Thank YOU!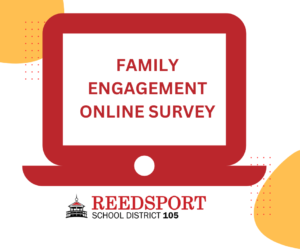 How are we doing?
Your voice matters
To better serve our students and families, the district is interested in hearing your concerns and commendations.
"We area an inclusive community, with heart, empowering all who enter our doors."
"Empowering individuals to reach their full potential and achieve their goals."